When the UN set eight Millennium Development Goals (MDGs) targeting poverty reduction and basic human rights, three of these targets included shelter, water and sanitation. The MDGs have since succeeded in focusing international attention on these fundamental global issues, leading to increased funding and new strategies by international agencies, governments and other organizations at all levels, who have tuned their own programs to respond to these goals.
Since 1976 Habitat for Humanity International has been addressing issues of sub-standard housing not only in the United States but in dozens of countries around the globe. Housing programs built on giving a 'hand up' not a 'hand out', has given a sense of pride to families who worked side by side with volunteers to build new homes with hope for a future outside the clutches of poverty. To date over 220,000 houses have been built, providing homes for over one million persons.
In the Asia Pacific and South Asia region housing programs exist in Afghanistan, Australia, Bangladesh, Cambodia, China, Fiji, Guam, India, Indonesia, Japan, Korea, Malaysia, Mongolia, Nepal, New Zealand, Pakistan, Papua New Guinea, the Philippines, Singapore, Sri Lanka, Thailand, Timor Leste, Vanuatu and Vietnam, with over 45,700 houses built and renovated.
In addition nearly 30,000 families benefited from Habitat programs to help victims from the 2004 Asian tsunami.
Across the Asia Pacific region Habitat for Humanity Resource Centers provides services from construction, skills training, disaster response and housing micro finance. One of the key factors is the ability to provide cost effective construction techniques that are passed onto local people on the grassroots level.
Innovative designs are used from cement to earthen interlocking blocks to the use of bamboo houses, making use of appropriate technology. House designs differ from country to country, according to climate and geographical changes.
With the labor of volunteers, the home partners and skilled workers, no interest loans make it affordable for low-income families to have a simple, decent home and move out of the clutches of poverty.•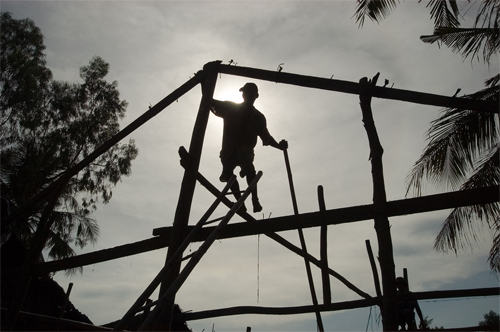 In Thailand, a Thai government agency, the Community Organizations Development Institute (CODI), channels infrastructure subsides and housing loans directly to poor communities. CODI manages the government's Baan Mankong (secure housing) initiative for upgrading slums. Government funds are used to purchase land rights from landowners or to pay for community leases.

A partnership between CODI and Habitat is currently under development in Bangkok, to build 88 houses for over 400 persons who were recently evicted from a squatter community in Bangkok. CODI will be responsible for organizing the land purchase, while Habitat takes charge of the construction process. Special mortgage arrangements will also be available, offering reasonable monthly payments, and zero interest.